Serving NYC since 1989!






WHAT IS AUTO-FREE NY?
A movement aimed at exploring and achieving the upper limit of "devehicularization" of our nation's largest city: Get cars out of our parks. Curb the reckless motorists who dominate our streets. Cut noise, smog and traffic costs. Increase pedestrian space and safety. Shift city and state funds from highway expansion to investments in new transit options and extensions -- not just baby steps. Last but not least, make bicycling better. A livable city is possible!

---
• NEXT MEETING: JANUARY 16
Auto-Free NY has been holding FREE monthly meetings, featuring a wide variety of guest speakers, since its founding in February, 1989. Usually held in Manhattan, on the third Tuesday of each month, they are open to the public, and no reservations are needed.
---
• The Livable City Transport Plan
is an affordable, comprehensive vision of our city, designed to be achievable in just one four-year mayoral term. Using innovations now common in more sophisticated and democratically run cities here and abroad, this plan would raise New Yorkers' quality of life through better functioning public transit, a noticeable reduction in car use and much more auto-free space in the core of NYC, the most densely populated city in the nation. As always, we look forward to your thoughtful review and comments.

---
CURRENT EVENTS:

• The City's plaNYC 2030
• Lower Manhattan
• Light Rail in NYC
• Regional Rail Working Group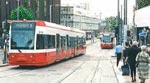 ---
FEATURES:

• Glossary
• How the NY Times Covers NYC
• AUTOMOBILE HORROR!
• Previous "Letters from George"
• How to Join/Donate
• Visit These Links
• Recent Books
• Remembering Steve Dobrow
• 42nd St. Trolleys - 1990's Planning History
• What's so Great about Streetcars?
• Light Rail in the Lincoln Tunnel!
• New York Streetcar News Index
• East River Bridges
• Rockaway Beach Line (Qns)
• OTHER VOICES
• Life's a Beach for Paris Mayor
• Berlin: Transport Politics
• The Five-Minute Activist


---
---
Auto-Free NY operates under the aegis of the Institute for Rational Urban Mobility, Inc. (IRUM), a not-for-profit organization with 501(c)(3) status.
---
Note: this website is best viewed with Text Size set to "Smaller" or "Medium."
---
If Car Names Were Honest:
Audi My-Way
Chevy Fistfight
Chrysler Criminal
Dodge Tumor
Ford Poluta XS
GMC Denial
Honda Discord
Hyundai Enslava
Lamborghini OINK
Lexus Segregator
Lincoln Alienator
Mazda MeFirstLastOnly
Mercury Dioxin
Saab Flatus
Saturn UrFaddas
Subaru Deforester
Toyota Runovia
VW Smoggia
---
Be a patriot - use mass transit!
---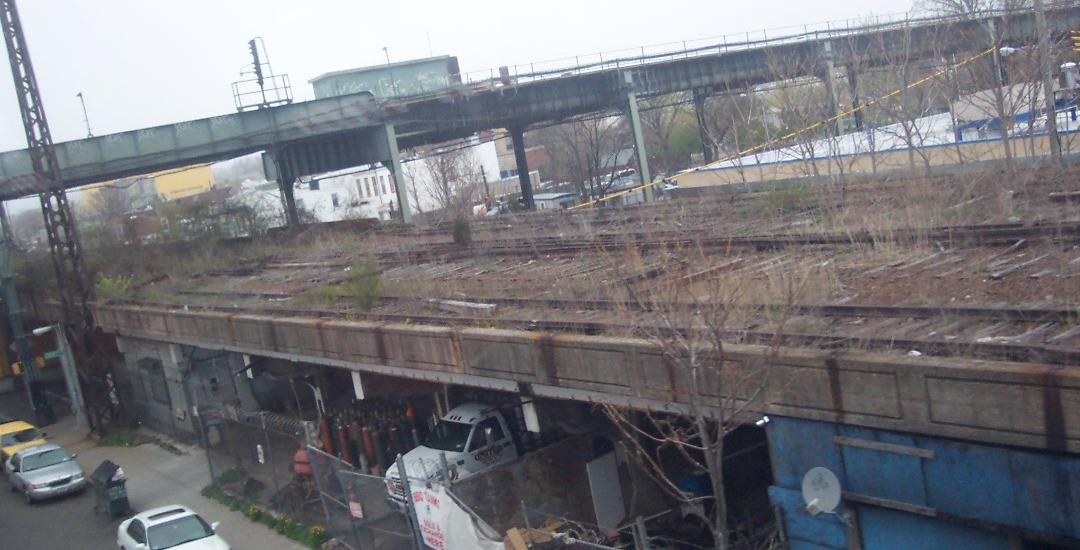 Above: the view across the deserted railbeds of the LIRR Rockaway Beach rail right-of-way. Not technical issues but unaccountable bureacracies, vision-free, dishonest politicians and a tiny coterie of Encroachment Nimbys have conspired to keep this priceless public asset in ruins for decades. View from A train looking north near Howard Beach stop, April 2013. In the background is the A train Lefferts Blvd. branch, headed east. Photo: W Fields.
Letter from George
January 1, 2018
Making the Connection:
Another Look at Unifying Our Region's Rail Services

Dear Friends of Sustainable Transport:
IRUM has long called for jolting awake the "sleeping giant" of regional mobility - the three commuter rail lines for use by the 22 million people in the NY-NJ-CT metro area - and refashioning them into a regional rail system, with frequent service, integrated fares and thru-running, first at Penn Station and then by linking Penn Station with Grand Central Terminal.
IRUMís vision is summarized in Making the Connection, an exhibit that was first shown at the Urban Center of the Municipal Art Society in 2006. Please take a look (large-size pdf): http://www.rrwg.org/connectr.pdf
In addition to IRUMís plan, two innovative alternate visions of linking these rail lines as they pass through the Manhattan central business district (CBD) have been advanced recently - in a more sophisticated city, these plans would be the subjects of intensive media coverage and debate: ReThink NYC, and the Regional Planning Associationís 4th Regional Plan.
Plan to attend the next Auto-Free NY/vision42/regional rail working group meeting on Tuesday, January 16, 2018, 6-8pm at the Transportation Alternatives office on 111 John Street in Lower Manhattan (a block below the South Street Seaport), to learn more about all three options. Urban planner and IRUM board member John West will present a detailed look at and discussion of the three plans. An RSVP is not required but is strongly suggested at: geo@irum.org.
Progress reports will also be presented at the meeting on other IRUM initiatives, including vision42 - an auto-free light rail boulevard for 42nd Street and options for reducing motor vehicle use in the core the city by using carrot-and-stick pricing strategies. Also save the dates for the February and March 2018 meetings:

FEBRUARY 20th: "The North American Light Rail Renaissance and its potential for NYC" with special guest Andrew Bata, Regional Manager for North America, at the UITP (International Association of Public Transport).

MARCH 20th: "One Region: a NYC perspective on Metropolitan Growth" with special guest Carolyn Grossman Meagher, Director of Regional Planning at the NYC Dept. of City Planning.
Finally, thanks to those who have sent a contribution to IRUM in response to our year-end solicitation letter. If you havenít received this letter please consider making an on-line contribution: https://www.nycharities.org/ give/donate.aspx?cc=1146.

Sincerely,
George Haikalis, Chair
---
P.S. NYC SMOG ALERT UPDATES: Despite ongoing propaganda about how clean cars are these days, NYC's air quality continues to be the worst on the East Coast -- practically every day here is an Air Quality Alert Day, meaning you shouldn't breathe when outdoors, or live within a few blocks of a city highway or through street. For updates, call the state Dept of Environmental Conservation at 1-800 535-1345.

---
WISHING TRAFFIC AWAY IS NOT EFFECTIVE
---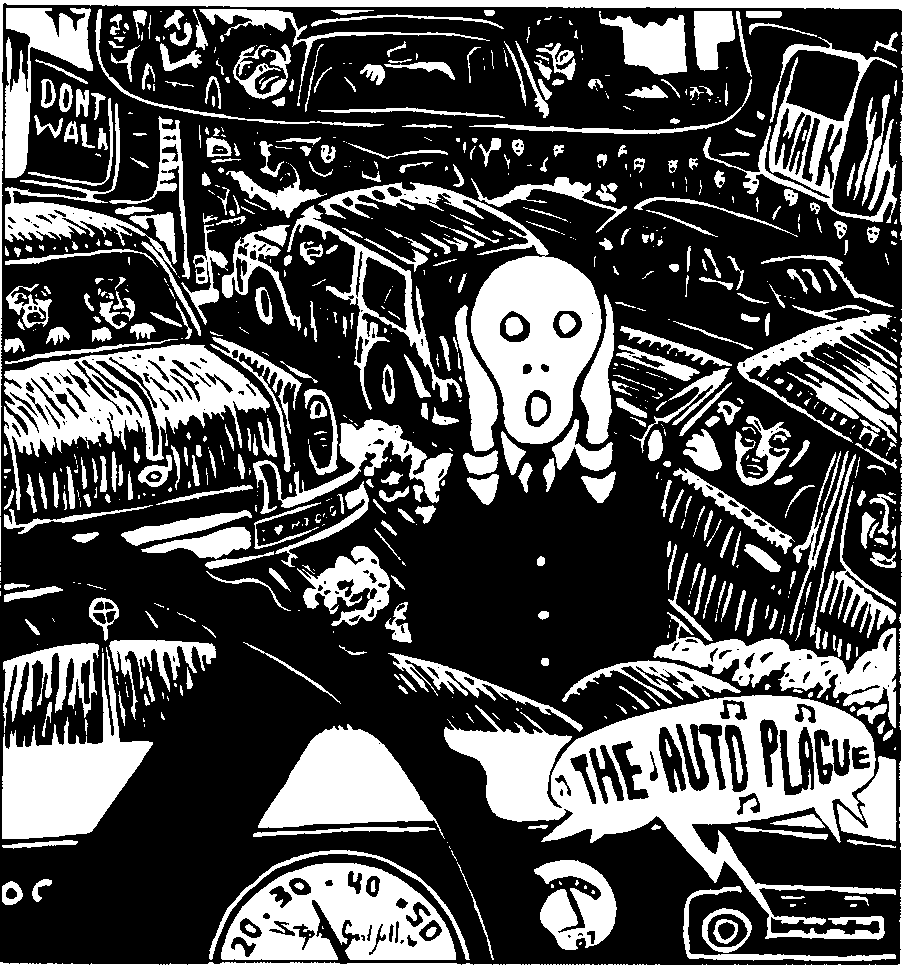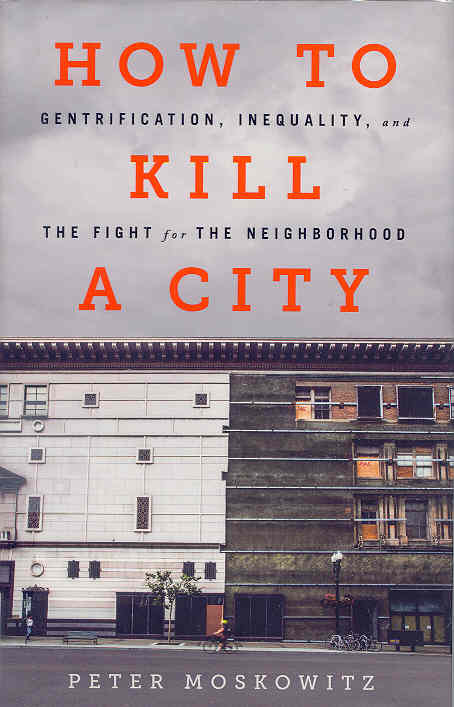 This new must-read book asks the question, what is the point of a city when only the rich and the super-rich can afford to live there? Read more
---
NY Times: Filler vs. Reporting on 'Vision Zero'
---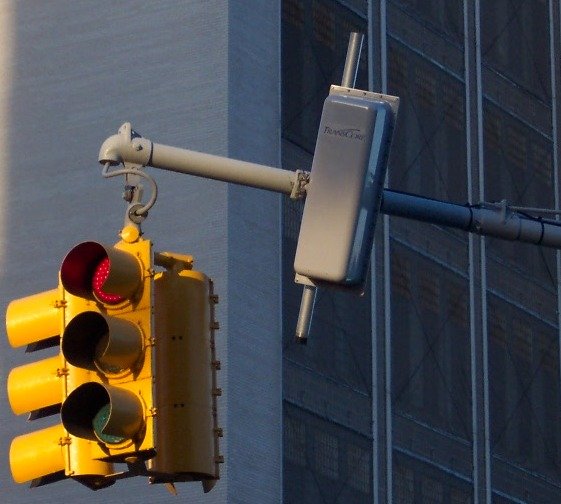 "I Refuse to Give Up My Freedoms!" Recognize these gray boxes? EZ-Pass and Big Brother have joined op to invade our privacy, using taxpayer money. Location: Atlantic Avenue at Boerum Street, Brooklyn. Read more
---
SCAPEGOATING BICYCLISTS FOR
NYC'S RECKLESS MOTOR VEHICLE CLIMATE
---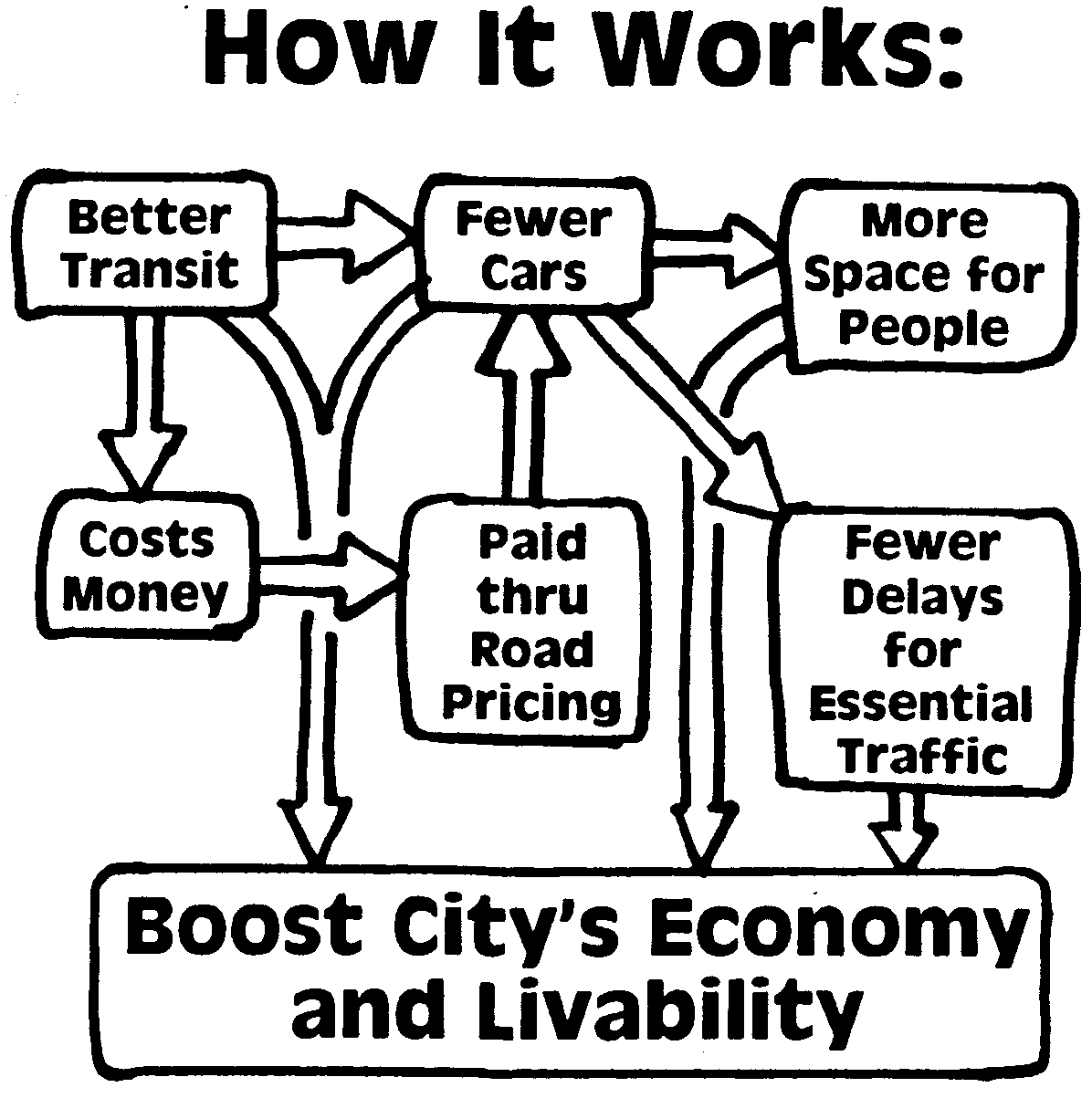 ---
Upcoming
Auto-Free NY Meetings, 2018:


Tuesday, January 16, 2018, 6-8pm
Unifying Our Region's Rail Svcs
John West, IRUM board member
TA Office, 111 John Street, 6-8pm

Tuesday, February 20, 2018, 6-8pm
North America's Light Rail Renaissance
Andy Bata, Regional Manager, IATP
TA Office, 111 John Street, 6-8pm

Tuesday, March 20, 6-8pm
A NYC Perspective on Metropolitan Growth
Carolyn Grossman Meagher, NYC Dept of City Planning
TA Office, 111 John Street, 6-8pm


---
* DIRECTIONS: Except for our summer walking tours, meetings are held at Transportation Alternatives' HQ, at 111 John Street, 2nd Fl. (just off Water Street, below the Seaport. Bike-friendly building!) Meetings start promptly at 6pm and end at 8pm. Our meetings are always FREE and open to the public.
---
ROME, Oct. 2004: A modern trolley waits quietly on the Via Arenula, at the terminus of the popular #8 Argentina line, about 3 blocks south of the Pantheon. Behind the trolley can be seen the state-funded Teatro Argentina. Sophisticated cities the world over are acting now to dramatically expand transit and reduce automobile use, while NYC languishes in a smog of cars, public relations, baby steps on pedestrianization and deep-seated political decadence. AFNY's web manager stands in foreground. Photo: Wayne Fields.

---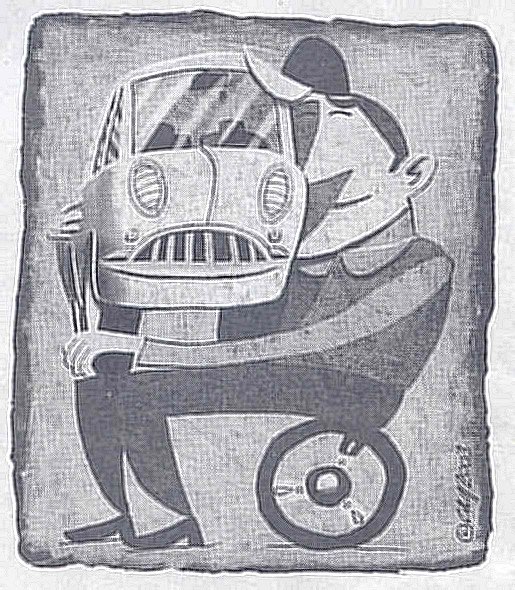 Above: This car-hugger illustration appeared in the New York Times, which has a longstanding grudge against doing
serious transit journalism.