Serving NYC since 1989!






WHAT IS AUTO-FREE NY?
A movement aimed at exploring and achieving the upper limit of "devehicularization" of our nation's largest city. Get cars out of our parks. Curb the reckless motorists who dominate our streets. Cut noise, smog and traffic costs. Increase pedestrian space and safety. Invest in new transit options and expansion -- not just baby steps -- and make bicycling better. A livable city is possible!

---
• NEXT MEETING: February 18
Auto-Free NY has been holding FREE monthly meetings, featuring a wide variety of guest speakers, since its founding in February, 1989. Usually held in lower Manhattan, they are open to the public, and no reservations are needed.
---
• The Livable City Transport Plan
is an affordable, comprehensive vision of our city, designed to be achievable in just one four-year mayoral term. Using innovations now common in more sophisticated and democratically run cities here and abroad, this plan would raise New Yorkers' quality of life through better functioning public transit, a noticeable reduction in car use and much more auto-free space in the core of NYC, the most densely populated city in the nation. As always, we look forward to your thoughtful review and comments.

---
CURRENT EVENTS:

• The City's plaNYC 2030
• Lower Manhattan
• Light Rail in NYC
• Regional Rail Working Group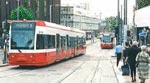 ---
FEATURES:

• Glossary
• How the NY Times Covers NYC
• AUTOMOBILE HORROR!
• 42nd St. Trolleys - Recent History
• What's so Great about Streetcars?
• Light Rail in the Lincoln Tunnel!
• New York Streetcar News Index
• East River Bridges
• Rockaway Beach Line (Qns)
• OTHER VOICES
• Life's a Beach for Paris Mayor
• Berlin: Transport Politics
• How to Join/Donate
• Visit These Links
• Recent Books
• The Five-Minute Activist
• Previous "Letters from George"
• Remembering Steve Dobrow


---
---
Auto-Free NY operates under the aegis of the Institute for Rational Urban Mobility, Inc. (IRUM), a not-for-profit organization with 501(c)(3) status.
---
Note: this website is best viewed with Text Size set to "Smaller" or "Medium."
---
If Car Names Were Honest:
Audi My-Way
Chevy Fistfight
Chrysler Criminal
Dodge Tumor
Ford Poluta XS
GMC Denial
Honda Discord
Hyundai Enslava
Lexus Segregator
Lincoln Alienator
Mercury Dioxin
Saab Flatus
Saturn UrFaddas
Scion Boxian Smeli-Pootr
Subaru Deforester
Toyota Runovia
VW Smoggia
---
Be a patriot - use mass transit!
---

Above: In the stormy winter of 2014, NYC bus riders and pedestrians frequently found snowed-in stops and unshoveled sidewalks, like that shown here on Court Street, Brooklyn, while motorists found for the most part quickly cleared streets. February 2014. Photo: W Fields. Letter from George


February 1, 2014




Celebrating Auto-Free New York's
25th Anniversary


Dear Friends of Auto-Free New York:

Next Tuesday, February 18, Auto-Free New York will celebrate the 25th Anniversary of its advocacy for sustainable transport in NYC. The meeting will be held at the Transportation Alternatives office, 127 West 26th Street, 10th Fl., in Manhattan, from 6 to 8PM. Mayor Bill De Blasio won his office in November 2013 with an overwhelming majority of the voters of NYC. The majority of New Yorkers do not own cars. With such actual and potential political capital in hand, our new Mayor is calling for "Vision Zero" (meaning the zeroing out of death-by-motor-vehicle statistics in NYC, within a decade!) as a centerpiece of his transport policy. There is much to hope for and to celebrate, but we still have a long way to go to reach AFNY's goals, as articulated in our four-year comprehensive Livable City Transport Plan, posted here. Our February meeting will reflect on what Auto-Free NY has accomplished over these past 25 years, but more importantly, will highlight progress and chart next steps on current initiatives: 1. Creating a grid of auto-free streets in Manhattan beginning with vision42 - a plan for an auto-free light rail boulevard on 42nd Street; 2. Remaking the currently disjointed three commuter rail lines that converge in Manhattan into a coordinated regional rail system with frequent service, integrated fares and through-running; and 3. Using cordon tolls to reduce car use in NYC's crowded core, that at the same time would provide funds to improve public transit. Snacks and beverages will be served! Plan to attend, but please RSVP: info@vision42.org.

Sincerely,
George Haikalis, Chair

P.S. NYC SMOG ALERT UPDATES:NYC's air quality continues to be the worst on the East Coast -- practically every day here is an Air Quality Alert Day, meaning you shouldn't breath when outdoors. For updates, call the state Dept of Environmental Conservation at (800) 535-1345. P.P.S. Our Regional Rail Working Group also meets monthly. This group showcases the efforts of individuals from a variety of transit advocacy groups to awaken our region's sleeping giant, its commuter rail system. (Note that because of the damage from Hurricane Sandy done to Hoboken in fall 2012, we cannot hold our regular monthly meetings at the Hoboken City Hall.) Until further notice, we urge those who can make it to attend our regular Auto-Free NY/vision42 working group meetings. Information on a restored meeting time and place will be announced as soon as possible.
---
WISHING TRAFFIC AWAY IS NOT EFFECTIVE
---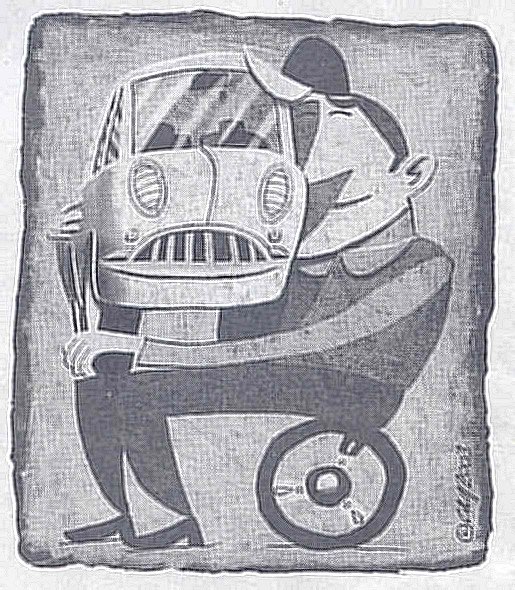 Above: This car-hugger illustration appeared in the New York Times, which has a longstanding grudge against doing serious transit journalism.

---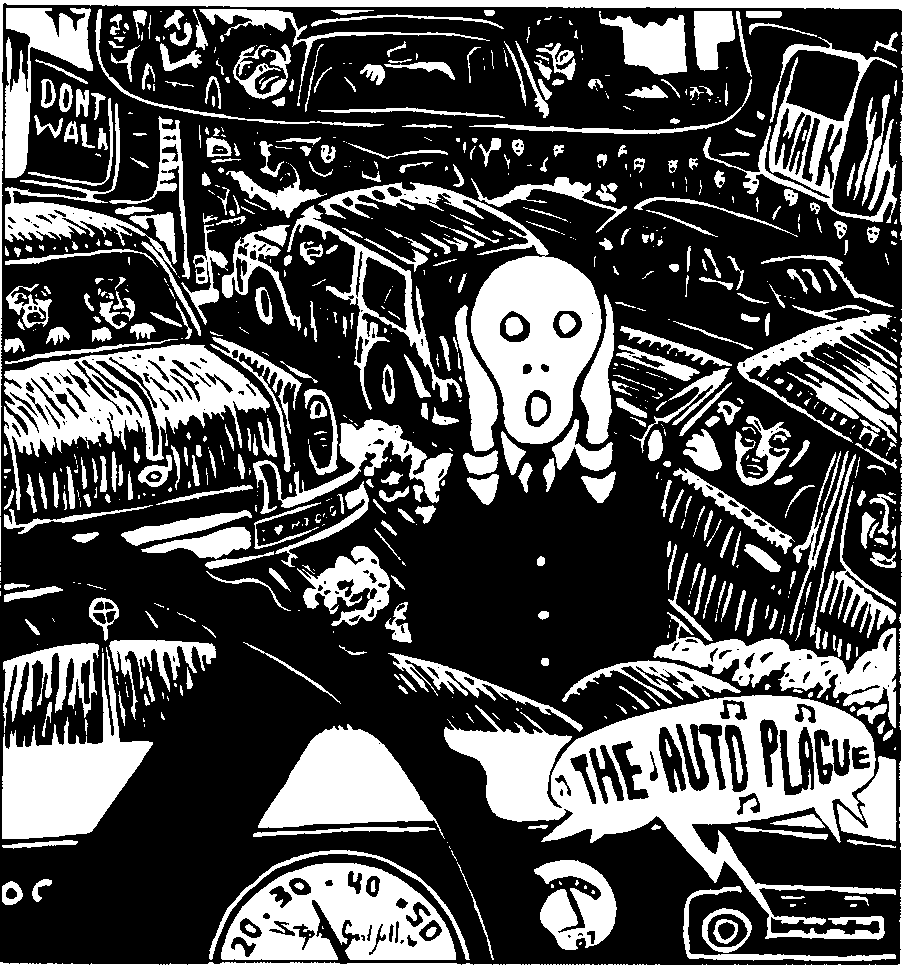 Snow in the City - Enjoy Less Cars!
New York Times - Filler vs. Reporting on 'Vision Zero'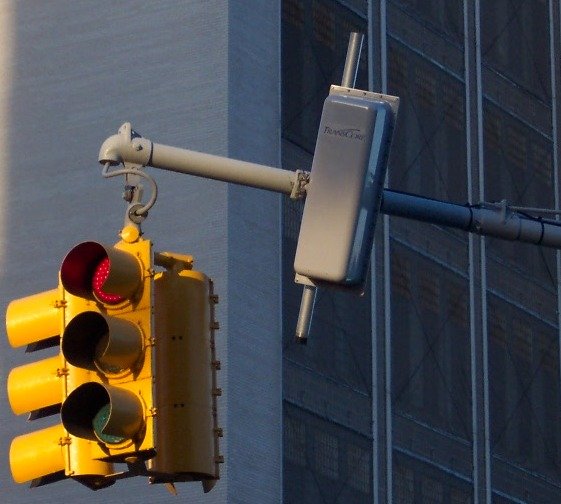 Recognize this Grey Box? EZ-Pass and Big Brother Join Up
---
Remarkable (& Free) Long Island Bike & Hike Map
---
Scapegoating Bicyclists for NYC's Reckless Motor Vehicle Climate
---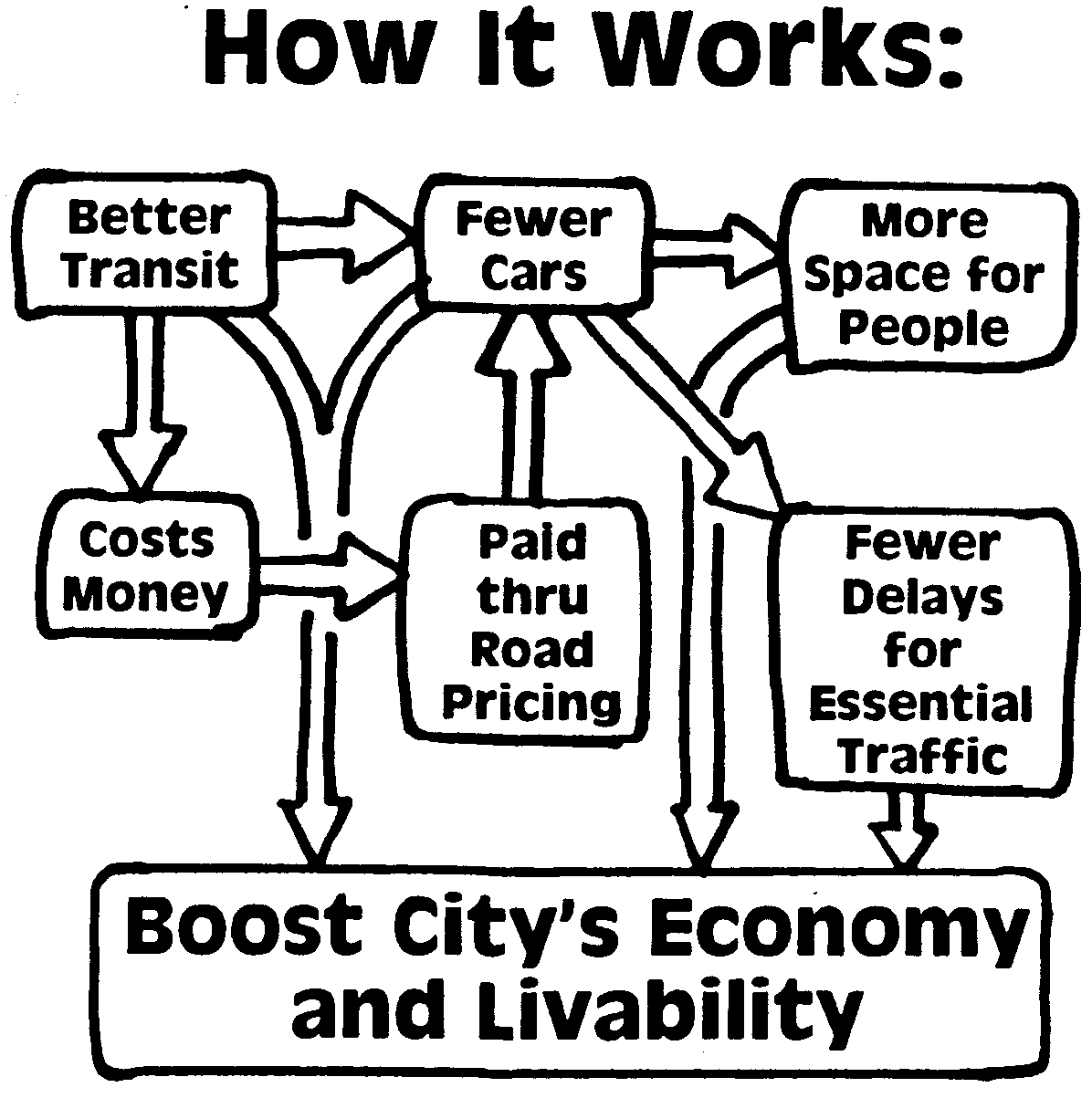 ---
Upcoming Auto-Free NY
Meetings, 2014:


Tuesday, February 18, 2014, 6-8pm
Celebrating Auto-Free NY's
25th Anniversary
TA Office, 127 West 26th Street, 10th Fl.
Tuesday, March 18, 6-8pm
Topic to be announced
Speaker: TBA
TA Office, 127 West 26th Street, 10th Fl.
---

Another SUV smashed by its reckless driver (Canal Street, Feb 2011): The bulk of these top-heavy, inadequately braked "bloatmobiles" makes their driver feel invulnerable, and so they drive worse, and crash more. Big business, attuned to wasteful and overdesigned products in principle, embraced SUVs as prime subjects beginning in the mid-90s, for one of the most intensive marketing and indoctrination campaigns in US car company history. But inexorably, American price supports for lower cost gasoline are going to end, while the realities of declining world oil production, and increasing political, military and climate chaos will grow more stark. Once the true costs of our national gasoline orgy start being paid by US motorists themselves rather than everyone else, these gas guzzling giants will quickly end up more worthless junk - and we may just get the quality public transportation -- and the sustainable economy -- we deserve.

---
Auto-Free New York . . . more than just bollards and paintstripes
---